Plugging and unplugging devices can be such a hassle; it doesn't have to be that way. The Premium 3 in 1 Wireless Charging Stand is designed to fuel your iPhone, Apple Watch, and AirPods batteries simultaneously quickly. The small base fits just about anywhere.
It's the perfect spot to place your AirPods for charging. With sturdy backing that extends up to support your phone vertically during charging. An extended flat top lets you place your watch for charging and easy viewing. Place your iPhone in a portrait or landscape position on the base when streaming videos for optimal viewing.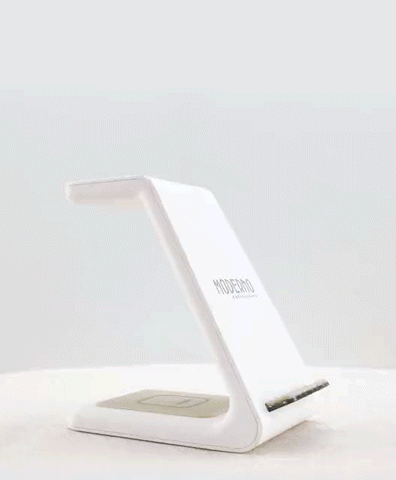 Features:
Intelligent Fast Charger: For Apple Watch Series SE/2/3/4/5/6/7/8; for Apple iPhone 8 / 8 Plus/ X/ XS/ XS Max/XR / 11/ 11 Pro/ 11 Pro Max/ 12/ 12 Pro/ 12 Pro Max/ 13/ 13 Pro/ 13 Pro Max/ 14/ 14 Plus/ 14 Pro/ 14 Pro Max and for Airpods 3 & Pro.
Horizontal/Vertical Wireless Charging: you can charge your iPhone either in Portrait or Landscape position, allowing you to use your smartphone while charging. You can also use your charger as a stand, making it ideal for consuming video content.
Convenience, especially when charging multiple devices: you can charge your iPhone, Apple Watch, and AirPods at the same time. On top of that, it is a fast charger.
Less wear on Lightning cables: you will go through fewer cables once you go wireless, wear and tear on cables will be reduced to almost nothing. Once you have plugged in your wireless charger with its wire, you're done. There's no constant plugging and unplugging to fray the connection between your Lightning cable and plug.
Specification:
Power: 10W/7.5W/5W
Compatible with: iPhone 8 and above, Apple Watch 8/7/6/5/4/3/2/SE, AirPods 3 & AirPods Pro
Voltage: 9V
Current: 2A
package includes:
1*3 in 1 Fast Wireless Charging Stand