Are You Ready To Walk Over The Mind-Bending Vortex Illusion Hole?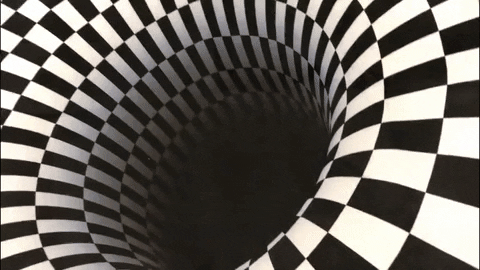 Get some wild reactions with the Vortex Illusion Rug, I promise. No matter if it is in a house or workplace, this hand-made artisan mat will brighten any space. Walk over the rug while exclaiming, "Wow!"
Amazing First Impression on Visitors
The black and white plaid design of the Vortex Appearance Rug creates the illusion that you are falling into a black hole. Don't miss your guest's first glimpse. You may count on making a memorable impression on the guests.
No More Foot Fatigue
Get a highly plush feeling to lessen foot fatigue during long working hours, together with encrypted fluff to keep it from sliding off.
Decorate the Space Elegantly
No matter where you are standing, the mat appears realistic rather than amazing from just one viewpoint. This unusual ornamental rug will give your space a classy appearance.
Easy Cleaning
Clean the vortex rug once in a week. Feel free to use a vacuum cleaner or wipe with a dry cloth—the mat made of 100% Soft and water-resistant Polyester.
High Quality
Our soft carpet has an extra anti-Slip layer on the back that help hold in place on wooden or other materials floor, And hold up even with kids and pets. This fluffy carpet is a great decor for the kids bedroom, Nursery, Classroom and dorm.
Vortex Illusion Rug is the ultimate conversation starter.
Place it in your living room, guest room, or office. Use 3D illusion for real-life fun!
FAQs
We believe 100% in our products. This is why we offer a 30-Day Wear Test Guarantee where you can test the shoes and decide for yourself.
The feet are the foundation of the entire human body. They support your body from the ground up.
The plantar fascia muscle is a long band of muscle tissue and ligaments that stretches all the way from your heel bone to the front of your foot. This supports the arch and bone structure of the foot. When inflamed, this causes a variety of issues in the foot such as Plantar Fasciitis, and Heel Pain.
Orthopedic shoes help align a patient's feet and off-load areas of increased stress (like a collapsed arch, an arthritic joint, or a diabetic ulcer or callus).
People of all ages wear orthopedic shoes. They are also popular among people without foot problems because they are specifically designed to support the foot, ankle, and leg's structure and mechanics and strengthen important muscles.
Don't worry, this happens. Just send your order back and we will ship the correct size to you at no extra cost.