Relax Your Stress, Fatigue & Pain Away
Reduces

Swelling

Relieves

Aches, Pains, Cramps & Spasms

Improves

Sleep Quality

Promotes

Blood Circulation

Ease Body Tension
Perfect for anyone who works on their feet or those looking to relieve neuropathy pain and stress
Neglecting Foot Health Can Affect Your Entire Body
If you don't take of your feet you can suffer from various nasty conditions, such as chronic pain, aches, and poor circulation. But if you're already suffering from any of the above, don't worry, we has the device for you!
Electric Muscle Stimulation (EMS) forces your muscles to contract deeply and results in therapeutic relief at a level that a regular massage cannot achieve.
EMS foot massager will reduce swelling, increase blood circulation, and get rid of any aches or pains. By using this state of the art massager, you will increase the amount of oxygenated blood in your lower legs. Each session on your foot massager lasts 15 minutes and can be used anywhere. You'll be amazed at the results.
Just 15 minutes per day may help maintain healthy leg circulation, provide fast acting relief from swollen legs and feet and ease tired, aching legs. Just picture taking off your shoes after a long day of work and easing down on our foot massager.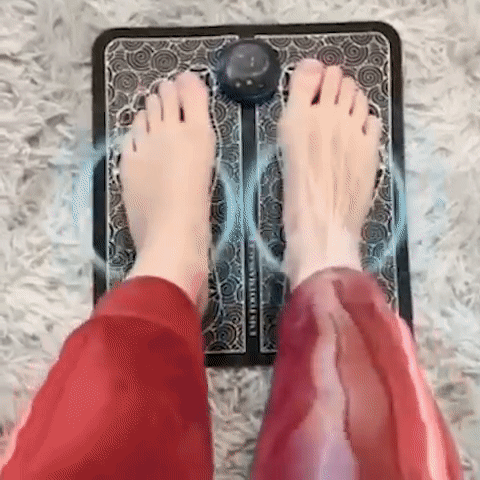 Our EMS Foot Massager is meticulously designed for people who sit or stand for prolonged periods of time for work.
Whether you are a cashier at a store or a high-heel-wearing star in the corporate world, discover relaxation for aching feet and legs everyday.
Great for whether you are sitting or standing, discover the power of electrical muscle stimulation, which is a great relaxing way to stimulate blood flow and loosen up tired muscles in the feet.
Features:
Acupressure to the rescue
Intelligent acupressure technology detects acupuncture points on the feet and sends electrical pulses to simulate massage-like tapping, kneading, and stroking.
Experience deep relief not only in your feet, but also ankles, achilles tendons, and calf muscles. Circuit-conductive padding on the mat delivers the acupressure technology so you can relax from a long day.
Luxe padding for added comfort
The foot mat is made of soft, flexible polyurethane for durability that brings a luxe feel. The mat is also foldable and portable for easy carrying or storing.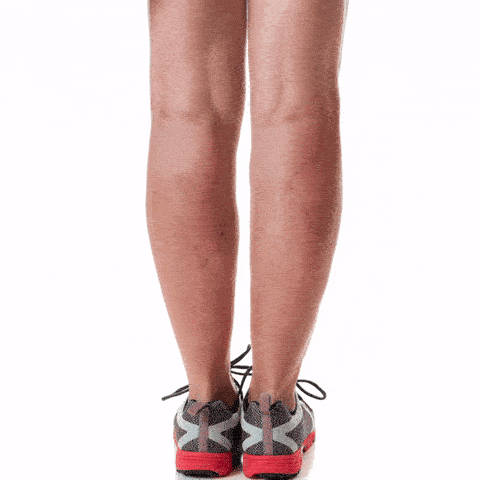 Relief on-demand, anytime
Enjoy a relaxing foot massage wherever you are, whether on the couch watching TV, in front of the computer at your desk, or as you stand and watch the sunset. It's possible with our great-to-have EMS Foot Massager. Recommended use is one treatment cycle per a day.
Relax in two easy steps
Step 1
Place the controller onto the mat and make sure your feet are completely on the mat for six seconds.
Step 2
Press the power on/off button to initialize the control unit of the mat. Choose a mode on the controller, and relax! Note the treatment cycle will run for 20 minutes and automatically shut off after the selected mode is complete.
Specification:
Weight:0.25kg
Product Size:29*32cm
Power supply : USB/Battery
Massage principle : vibration
Mode intensity :
Digital display, built-in lithium battery, 60modes, 9 speeds
Remote control model contains lithium battery, 6 modes and 9 speeds, both the remote control and the host are charged by usb
Working voltage : 3.7V
Working time : 25 minutes
Working current : 50mA
Package Includes:
EMS Foot Massager with Remote Control:
EMS Foot Massager Only:The above package does not include remote control.
FAQs
We believe 100% in our products. This is why we offer a 30-Day Wear Test Guarantee where you can test the shoes and decide for yourself.
The feet are the foundation of the entire human body. They support your body from the ground up.
The plantar fascia muscle is a long band of muscle tissue and ligaments that stretches all the way from your heel bone to the front of your foot. This supports the arch and bone structure of the foot. When inflamed, this causes a variety of issues in the foot such as Plantar Fasciitis, and Heel Pain.
Orthopedic shoes help align a patient's feet and off-load areas of increased stress (like a collapsed arch, an arthritic joint, or a diabetic ulcer or callus).
People of all ages wear orthopedic shoes. They are also popular among people without foot problems because they are specifically designed to support the foot, ankle, and leg's structure and mechanics and strengthen important muscles.
Don't worry, this happens. Just send your order back and we will ship the correct size to you at no extra cost.