Features
The swing track can be left after hitting the ball, can effectively analyze the pole drop point.
Durable, easy to clean
Durable, no signs of wear after playing many times, can be used as a substitute for golf enthusiasts.
Golf course dedicated, use to teaching beginners.
Applicable to
Office, home, corridor, school, indoor driving range can practice, convenient storage.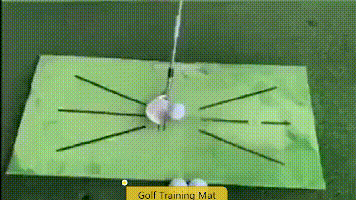 The marks left by the hit can be easily erased with the club.
MASTER YOUR SWING PATH
Don't just swing like you're practicing, Swing like you mean it.
Thin yet sturdy sole prevents rips against the hardest swings.
WHY GO PRO?
After hitting the ball, it can leave the trajectory of the swing, effectively analyze the drop point and make targeted corrections, which is very suitable for practitioners.
Alignment guide provides visual guide for the club head path and impact.

Get More Range Sessions

Save Time & Money To Practice
Size
30x60cm.
Packaging
1xGolf Training Mat(not include golf balls)
FAQs
We believe 100% in our products. This is why we offer a 30-Day Wear Test Guarantee where you can test the shoes and decide for yourself.
The feet are the foundation of the entire human body. They support your body from the ground up.
The plantar fascia muscle is a long band of muscle tissue and ligaments that stretches all the way from your heel bone to the front of your foot. This supports the arch and bone structure of the foot. When inflamed, this causes a variety of issues in the foot such as Plantar Fasciitis, and Heel Pain.
Orthopedic shoes help align a patient's feet and off-load areas of increased stress (like a collapsed arch, an arthritic joint, or a diabetic ulcer or callus).
People of all ages wear orthopedic shoes. They are also popular among people without foot problems because they are specifically designed to support the foot, ankle, and leg's structure and mechanics and strengthen important muscles.
Don't worry, this happens. Just send your order back and we will ship the correct size to you at no extra cost.