Are you still annoyed with knee pain? Our Infrared-heating knee massager wrap support is a good choice for you. It is made of high quality material, which is safe and comfortable to wear. The soft self-adhesive pad with high elasticity that is easy to take on and off.
Thermotherapy, also we called it heat therapy, is a use of heat in therapy for muscles, chronic pain or stress. It dilates the blood vessels, stimulates blood circulation and reduces muscle spasms, alters the sensations of pain. It is now commonly used to smooth pain and relax muscles. Heating Pad with Hot Pack is an ideal pain relief solution providing hot therapy options. Ideal for knee pain as well as the leg and arm. Heat therapy helps dilate blood vessels, promotes blood circulation and reduces muscle spasms, relieves pain caused by knee dislocation, knee fracture, knee arthritis, surgery pain and swelling.
Knee Heat Massager provides powerful vibration massage, help reduce joint pain, muscle stiffness and joint swelling from knee, shoulder, arms and legs, and improve your range of motion. Advanced Selectable Heating function boosts circulation, keep knee warm in seconds, and further relieve muscle soreness and cramps.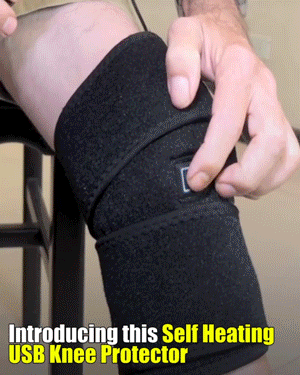 Ease your strains, sprains, arthritis, injury, or other muscle/joint fatigue instantly with our Infrared Heated Knee Brace. This knee brace protects your knees and enhances your power like never before. Allows you to squat easier, jump higher, and lift heavier, all while keeping you safe.
Our Knee Braces give you the support you need so you can get back to doing what you love! This is designed to give your knee extra support and promote muscle recovery.
People who want to ensure the health of their joints can use braces to help keep the muscles in place. Braces that apply heat to the area continue to grow in popularity because of their ability to reduce swelling and ease the pain.
Infrared Heated Knee Brace, is specifically designed for the curvy shape of your knee while emitting deep-penetrating infrared heat all the way to your muscles, bones, and nerves.
Relieve your pain from injuries, weak joints, and muscle soreness while this brace wraps comfortably around your knee and uses heat therapy. Designed with a new generation graphene heating film, it provides even surface heating and deep penetration, and effectively improves blood circulation, relieves tension and alleviates pain. Remove your pain instantly and feel relief!
FEATURES:
Decrease Knee Pain: Eliminate muscular aches and joint pains associated with overexertion, strains, and sprains as well as pains associated with arthritis, meniscus, osteoarthritis, bursitis, ACL, PCL, MCL tear etc.
Multi-functional: Although designed to wrap around knees, it can be used on ankles, calves, thighs, shoulders or lower back, or areas on your body that need heat therapy.
Cold Therapy: Switch to cold therapy just with the built-in mesh bag and an ice pack.
Experience Extreme Comfort: You do not need to hold it because the two bifurcate straps conveniently wrap around your leg or arm where you need heat compression.
Portable: You can use any charger through the included USB cable. You can also connect it to your car's 5V lighter outlet for an on-the-go treatment.
Fast-heating: It provides ultra comfy hot therapy for knee arthritis pain relief and injury recovery in seconds.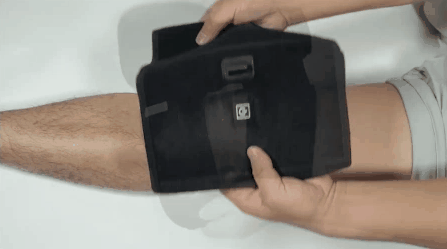 HOW TO USE?

1-Button Control and 3-Heat Settings: It is easy to operate so you can control the heating temp and time. The power button with LED indicator can be operated to red-highest, white-medium, blue-lowest temp settings. Short press the button for once can change the heating setting.
Compact Size and Comes with Long Power Cord: The power cord is about 6.6 feet (2 meters), long enough to allow you to move freely when connecting it to a socket. Fits a leg or arm circumference less than 21 inches.
3 Heat Levels: Click the power button to switch between 3 different gears: first gear (red light), the second gear (white light), and third gear (blue light).
IMPORTANT NOTE:
Make sure that the temperature is never uncomfortably high; you don't want to put your skin at risk for burns.
Don't apply heat to skin that is cut or injured in any way.
Don't apply heat for longer than 20 minutes at a time.
SPECIFICATION:
Product material: diving fabric
Product color: black
1. When using USB to plug into the USB port to get power, the output is about 5V/DC:
The highest (red): the temperature is 50 ℃, high temperature, can be used for a long time;
Medium (white): The temperature is 45°C, warm and can be used for a long time;
Lowest (blue): The temperature is 40°C, neither too cold nor too hot, and can be used for a long time.
PS: If you connect it to a power bank with an output current higher than 500mA, the temperature may be higher than the above.
2. When using the adapter, the fixed output is 7.9V/DC:
Maximum (red): temperature 65 ℃, high temperature, the recommended use time is 10 minutes;
Medium (white): The temperature is 55°C, which is relatively hot, and the recommended use time is 30 minutes;
Maximum (blue): The temperature is 45℃, warm and can be used for a long time.
Size:21.8*59cm/8.58*23.22in
PACKAGE INCLUDES:
1*Infrared Heated Knee Brace
1*USB data cable
1*Plug