The fastest, most effective way to get younger looking contoured skin from the comfort of your own home
NuSculpt is a non invasive device that tones, lifts and contours your facial muscles while reducing the appearance of fine lines and wrinkles. It also smoothes skin texture and reduces puffiness, as well as stimulating collagen production to put the bounce back in your skin.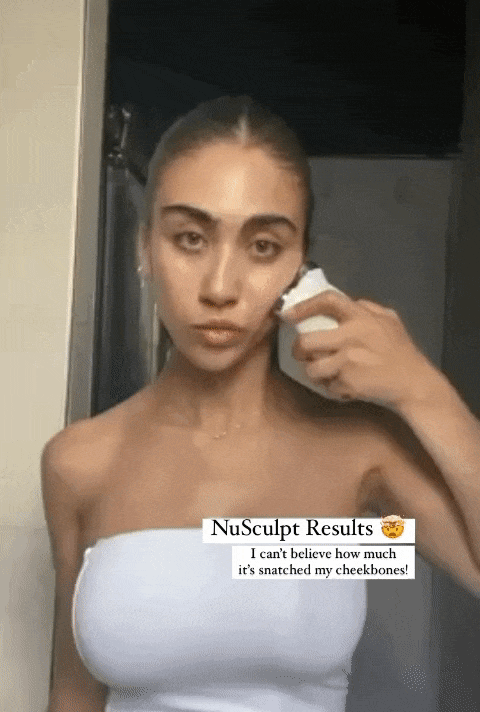 How Does It Work?
NuSculpt sends a safe, low-grade electrical current through the skin into the facial muscles. This microcurrent helps lift the eyebrows, define cheekbones, and tighten & firm the skin by mimicking and gently re-energizing the body's own natural current. A jawline so sharp it could cut glass, here we come.
A Workout For Your Face
Your face is made entirely of muscles under the skin- these muscles need to be trained regularly to maintain their original shape and lift and fight ageing. Think of the NuSculpt as a 5 minute gym workout for your face.
Hello Youthful Radiance
NuSculpt gives you a smoother, glowing complexion by eliminating toxins and easing facial tension. It combines microcurrent with sonic massage to improve microcirculation, giving you younger looking, glowing skin.
Plus, it's completely safe.NuSculpt's anti-shock system guarantees you a comfortable treatment by automatically adjusting the microcurrent to deliver a consistent volume of safe microcurrent waves to your facial muscles.
With your purchase you will receive
 1x Micro-Current Facial Roller 
FAQs
We believe 100% in our products. This is why we offer a 30-Day Wear Test Guarantee where you can test the shoes and decide for yourself.
The feet are the foundation of the entire human body. They support your body from the ground up.
The plantar fascia muscle is a long band of muscle tissue and ligaments that stretches all the way from your heel bone to the front of your foot. This supports the arch and bone structure of the foot. When inflamed, this causes a variety of issues in the foot such as Plantar Fasciitis, and Heel Pain.
Orthopedic shoes help align a patient's feet and off-load areas of increased stress (like a collapsed arch, an arthritic joint, or a diabetic ulcer or callus).
People of all ages wear orthopedic shoes. They are also popular among people without foot problems because they are specifically designed to support the foot, ankle, and leg's structure and mechanics and strengthen important muscles.
Don't worry, this happens. Just send your order back and we will ship the correct size to you at no extra cost.