This new mug warmer not only keeps your beverage at your best drinking temperature, but also heats your favorite cup of coffee or tea to 75°C, and maintain this state throughout the day.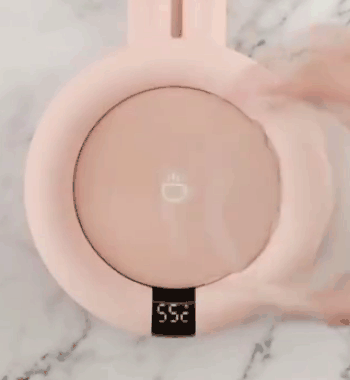 Keep Your Coffee Hotter for Longer
If you're prone to forgetting your cup right after you've poured it, or you're routinely active or distracted throughout the day.
Rather than reaching for the microwave or burning your tongue on too-hot coffee from a thermos, consider our new mug warmer.
Adjustable 3-Levels Temperature
With 3 temperature ranges. You can freely adjust the temperature according to your needs.

Easy control of temperature using the smart touch technology and the LED screen.
Lovely shape, Soft texture
Beautiful appearance and excellent heat preservation effect with high-quality heating sheet.
Made of high quality material, safe and non-toxic, odorless and healthy.
Smart timing switch
If you forget to turn it off, it will automatically turn off after 8 hours. Allowing you to worry-free all night.
Suitable for Most Mugs
Fits most cups with a diameter less than 8cm, such as glass cups, stainless steel cups, ceramic cups, etc.

To obtain better results, we recommend using flat-bottomed glass cups or stainless steel cups. Putting a lid on the cup will also help retain heat.
Best Gift Choice
Your excellent choice to enjoy hot coffee/tea/hot/ milk at your preferred temperature.

This is the best gift choice for family and friends on birthdays, Thanksgiving, Christmas and other special holidays.
Features:
Convenience :

 A Cup Warmer that can quickly heat your cup of coffee or tea to the perfect temperature, saving you time from having to reheat it in the microwave or on the stove. We understand how valuable your time is.
Incredible Comfort:

Distractions might take you away from that nice hot coffee or tea for a few minutes or hours, whether you're at home or at work. Your coffee is cold and unusable when you return. That's where the Cup Warmer enters the picture.
Unrivalled Quality:

 You've probably seen Cup Warmers that are less expensive and of inferior quality. We choose to focus on quality and produce a long-lasting Cup Warmer that will be cherished for years to come.
Lightweight & Portable:

 If you ever wish to carry it to work, it will fit into your bag and preserve your favorite hot drinks at the perfect temperature, allowing you to be worry-free all day.
Weight: 280g

Power: 20W

Voltage: 220V

Feature: Smart Touch

Material: Metal/Fireproof ABS/Silicone

Size: 124x124x26mm