Keep your furry friend hydrated on the go with the portable water bottle!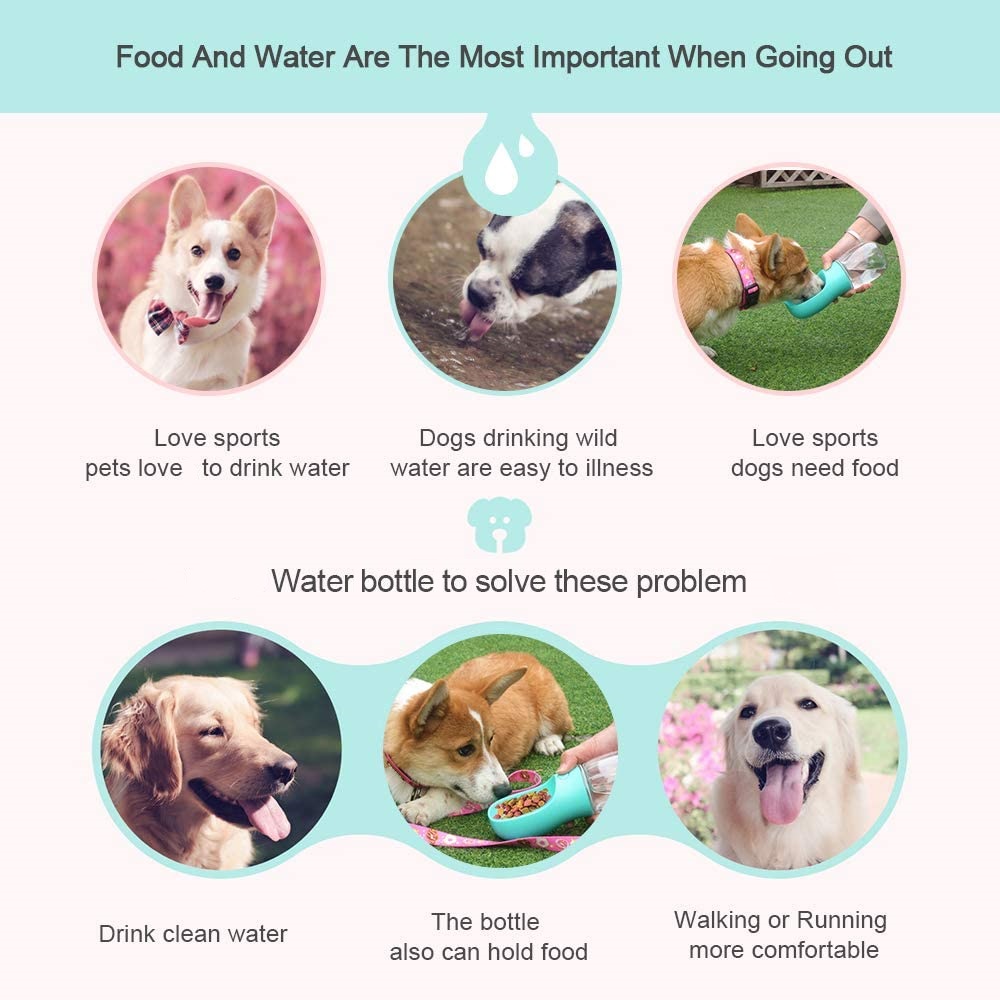 Now the lack of water won't stop you and your furry buddy from hitting the trails. The portable water bottle lets you share fresh water with your canine companion without having to worry about him being dehydrated. It's perfect for taking along on hikes, road trips, or to the local park. And you'll love the fact that this shareable and portable water dispenser is made from BPA-free plastic, helping to keep both you and your dog happy and healthy.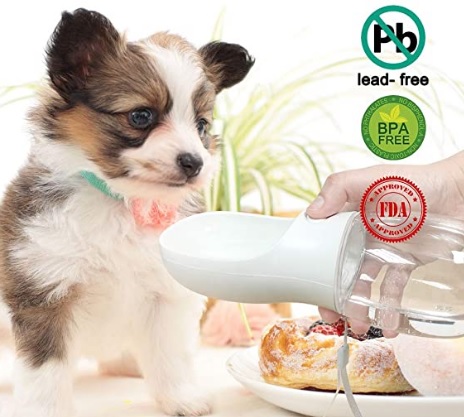 Available in 4 color options: pink, turquoise, white and blue. Unlike boring bottles, you can match your pet's harness or collar to make your pet look more dazzling and outstanding in the crowd!
Besides, there are 2 sizes to choose from: 350 ml and 550 ml. It's quite enough for outdoor walking, hiking, or traveling. You can put it in your bag easily because of the compact size of the bottle. Or you can have it at your hand whenever you need it thanks to the attached strap.
NEVER WORRY ABOUT YOUR DOG BEING DEHYDRATED AGAIN!
We know how inconvenient it can be to lug around a water bottle & doggy bowl every time you go out with your pup. Our Portable Dog Water Bottle solves all that and more!
Keep Your Pup Hydrated
Our Portable Dog Water Bottle is the easiest way to give your dog water on the go. Just fill it up as like you would any other water bottle and let your pup slurp up water from the bowl shaped cap, as needed.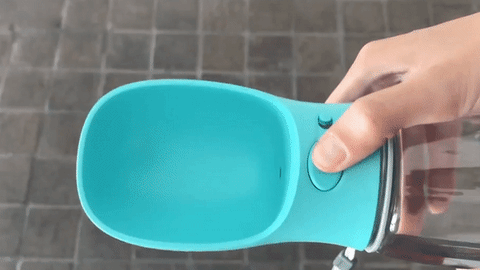 Never Waste a Drop of Water Again
Remember all of those times you poured your dog a bowl of water only for them to drink half of it? Now YOU control how much water they'll need, AND if there's any left over, you can drain it right back into the container in one, two, three.
Ultra-Portability & Versatility
A compact form factor and built-in wrist strap allows the Portable Dog Water Bottle to be taken anywhere and fit in your backpack, duffel bag, purse, etc.!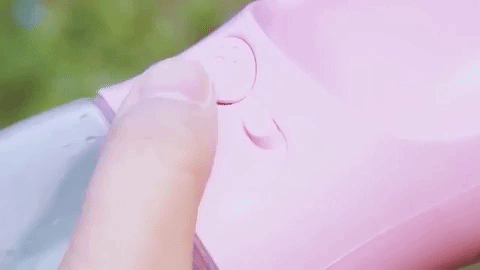 Anti-Leak Technology
It can be a pain to get your belongings wet if a water bottle leaks. Our Anti-Leak Technology ensures our Portable Dog Water Bottle will never leak on you.
Time to forget about dog bowls and get yourself a Portable Dog Water Bottle! 
KEY BENEFITS
SAFE MATERIAL — The portable dog water bottle is made of high quality, durable and safe material, so make sure your pet is completely safe when he uses our dog water bottle.
NO LEAK DESIGN — With the lock key function the bottle doesn't leak at all. You can put it in your backpack and it will not get wet.
CONVENIENT — You can easily water your dog with one hand operation. Just press the water key to fill the water, then release it to stop the water.
NO WATER WASTE — Don't worry to waste water anymore. Unused water can go back into the container easily by pressing the water key.
 Note
Don't wash the water bottle in a dish-washing machine.
SPECIFICATIONS
Volume: 350 ml & 550 ml
Applicable Dog Breed: Universal
Material: ABS
Colour: Blue , Pink, White
Health & Safety: BPA Free

Product Size(L x W x H): 7.50 x 7.50 x 20.80 cm / 2.95 x 2.95 x 8.19 inches 
Package Size(L x W x H): 7.60 x 7.60 x 22.00 cm / 2.99 x 2.99 x 8.66 inches
Package Contents: 1 x Portable Pet Water Bottle
FREQUENTLY ASKED QUESTIONS
How much water does my dog need to drink?
It is recommended that they drink 1 oz of water for every 1 lb of weight. This means your 40 pound dog should be drinking 40 ounces of water each day, and more with exercise!
What if my dog does not like it?
We believe it is impossible for a dog to not like the water bottle and not want to drink out of it. As any dog will drink out of anything as long as it has fresh, clean water in it. Many dogs really enjoy using it on-the-go, they still drink from their regular water bowls when at home. 
FAQs
We believe 100% in our products. This is why we offer a 30-Day Wear Test Guarantee where you can test the shoes and decide for yourself.
The feet are the foundation of the entire human body. They support your body from the ground up.
The plantar fascia muscle is a long band of muscle tissue and ligaments that stretches all the way from your heel bone to the front of your foot. This supports the arch and bone structure of the foot. When inflamed, this causes a variety of issues in the foot such as Plantar Fasciitis, and Heel Pain.
Orthopedic shoes help align a patient's feet and off-load areas of increased stress (like a collapsed arch, an arthritic joint, or a diabetic ulcer or callus).
People of all ages wear orthopedic shoes. They are also popular among people without foot problems because they are specifically designed to support the foot, ankle, and leg's structure and mechanics and strengthen important muscles.
Don't worry, this happens. Just send your order back and we will ship the correct size to you at no extra cost.