Turn Your Recliner Chair Into The Most Comfortable Seat In The House!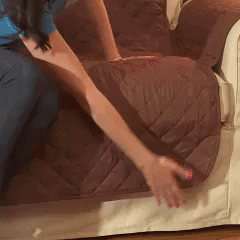 Are you tired of your recliner cover, which moves with your movement and is uncomfortable to sit on? This recliner chair cover is the solution.
Our Recliner Chair Cover is a cover that will fit over the head, arms, body, and footrest of virtually any large reclining chair.
Recliner Chair Covers will protect the chair from becoming covered in stains and cover up any past stains or worn upholstery.
One-Piece Design
While some types of chair covers are divided into different pieces that cover each part of the chair, but Recliner Chair Covers comes in one piece, which is very easy to maintain and install.
Six Large And Easy Access Pockets
Each of these covers contains six large and easy access and convenient pockets that you can use to store a remote control, cell phone, or glasses, no longer find yourself frequently searching for misplaced objects.
Soft and Comfortable
Made from breathable soft quilted microfiber, Recliner Chair Covers will not trap too much heat. It is soft to the touch, so it'll feel comfortable against your skin as you sit on whatever chair you've added your cover to.
Keeps You An Ideal Temperature
When you are cold, you can wrap the excess fabric from its edges around you to warm up, treating it as a cozy blanket. Besides, the breathable nature of the covers will help keep you warm in the winter and cool in the summer.
Machine Washable And Protect Your Chair
Protect your furniture from the daily tear, spills, stains, and so on and help keep your family and pet comfy while also protecting your furniture from pet dander or dirt. And give your furniture a fresh look. It is a great choice for homes with children and pets.
Size:

HOW TO INSTALL
STEP 1:DRAPE THE FURNITURE
Drape your sofa furniture with the cover. Wrinkles can be removed with a steamer or by placing in the dryer at low temperature with a damp cloth.
STEP 2:LOCATE SEAMS & INSERT ELASTIC STRAPS
Locate the 3 seams (2 short seams go between the arms and seats, the long seam should be placed between the seat cushions and back). Insert excess fabric between cushions and furniture frame until fit is smooth and tuck in the elastic straps to prevent the cover from slipping.
STEP 3:SECURE
Secure the furniture cover by attaching the elastic strap to the back of the sofa. This will help secure the back of the protector to the furniture and avoid the cover from flipping over when in use.