Get Fast & Effective Sciatic Pain Relief With Our Special Knee Brace!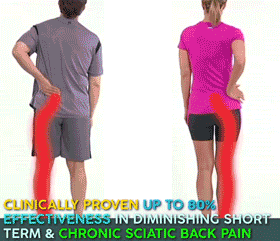 Get rid of chronic pain in the lower back / buttocks and legs with our Scaitic Nerve Pain Relieving Brace.
The patented acupressure pad applies targeted pressure to acupoints behind the knee that provide significant pain relief.
See drastic Improvements for Chronic Lower Back Pain, Sciatic Pain, Piriformis syndrome, pregnancy / menstruation related back pain.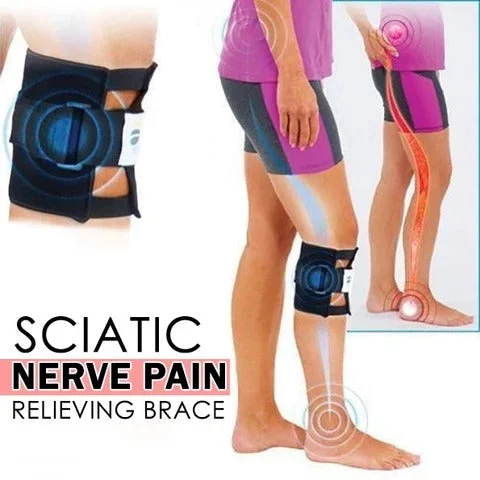 Features:
Our Sciatica Brace is the best for fast and effective sciatic back pain relief.

The secret is the patented pressure pad in the brace that applies targeted pressure to the pressure point behind the knee that provides sciatic and related back pain relief.
The Brace helps relieve tension up the sciatic nerve. It helps ease discomfort in your lower back, buttocks, and legs. Just slip it on and tighten the strap, and feel the pain diminish.
Helps reduce both short term and chronic sciatic back pain. The Sciatic Brace is quick and easy to apply. Works on either the left or right leg. Discreet and easily hidden under clothing, yet comfortable enough to sleep in. Adjustable to fit any leg. Holds firm while exercising or at work.
The pressure pad in the brace applies targeted pressure to the specific point that provides back pain relief!
Quick and easy to apply . The Sciatic wrap should initially be worn for up to 2 hours at a time. If it remains comfortable, the wrap can be worn for longer periods as needed.
See Drastic Improvements for:
Chronic Lower Back Pain
Sciatic Pain
Piriformis Syndrome
Pregnancy/ Menstruation Related Back Pain
Specification:
Material: brushed cloth composite fabric + magnet
Size: Width: 28cm* Height: 15cm.
Weight: about 62g
Package Includes:
1*Sciatic Nerve Brace
FAQs
We believe 100% in our products. This is why we offer a 30-Day Wear Test Guarantee where you can test the shoes and decide for yourself.
The feet are the foundation of the entire human body. They support your body from the ground up.
The plantar fascia muscle is a long band of muscle tissue and ligaments that stretches all the way from your heel bone to the front of your foot. This supports the arch and bone structure of the foot. When inflamed, this causes a variety of issues in the foot such as Plantar Fasciitis, and Heel Pain.
Orthopedic shoes help align a patient's feet and off-load areas of increased stress (like a collapsed arch, an arthritic joint, or a diabetic ulcer or callus).
People of all ages wear orthopedic shoes. They are also popular among people without foot problems because they are specifically designed to support the foot, ankle, and leg's structure and mechanics and strengthen important muscles.
Don't worry, this happens. Just send your order back and we will ship the correct size to you at no extra cost.