PERFECT SOLUTION TO ALL YOUR PROBLEMS
Do you have moles, tattoos or skin blemishes that you hate? Then our Smart Tattoo Removal Laser Pen is all you need. Compared to salon laser treatments, Smart Tattoo Removal Laser Pen gives you comfort and a painless but effective experience. Home use Tattoo Removal Laser Pen is your economical solution at home, no need to spend much money and time on monthly salon appointments.
100% SAFE AND PROFESSIONALLY TESTED
Our Smart Tattoo Removal Laser Pen is clinically proven to be safe by experts. Treatments are gentle and virtually painless, especially for first-time users, or use on sensitive areas. No more redness and irritation, it's hypoallergenic and dermatologist recommended. Easy to use at home.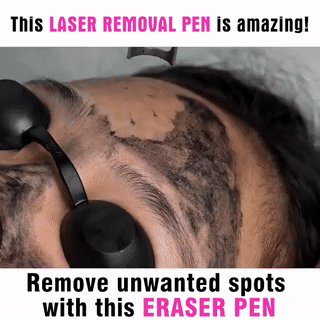 REASONS TO BUY FROM US
No damage to skin tissue

Powerful and fast energy directly decomposes melanin, thereby improving skin condition.

One-key operation, simple and easy.

Fewer treatments, Better treatment effect, Safer and no scarring.

Lightweight & Compact, exquisite packaging, more convenient to carry.

Wide range of customer applications, obvious long-term effect, more durable and safer.

Suitable for removing moles or acne, shrinking pores, lightening freckles or melanin, washing tattoos or tattooing eyebrows, etc.
HOW TO CHOOSE BLUE LIGHT & RED LIGHT?
Both variants are useful in removing moles, black acne scars, black and blue tattoos, eyebrow tattoos, eyebrow microblade and any other melanin.
Personal household Red Light picosecond pen, which can be operated by yourself. The power and effect are smaller than the blue light picosecond pen.
The beauty salon uses a Blue Light picosecond pen

or someone else operates it for you. You can't do it yourself because you need to wear protective glasses. Its power and effect are greater than the red light picosecond pen.
If someone helps you, we recommend buying a Blue L

ight

picosecond pen
ADVANTAGES TO USE OUR SMART TATTOO REMOVAL
Efficient: The laser beam can effectively resolve melanin into fine particles, so as to promote skin metabolism and reduce melanin deposits.
Faster Results: Faster laser beam and more focused laser energy to clean and remove long-standing melanin problems.
More Effective: More powerful laser beam, cause no damage to skin tissues and clean more comprehensively.
Comprehensive: Reduce freckles and dark spots, and refine skin

from the inside out.
Safer: No damage and hurts to skin tissues, safe to use.
Specification:
Single box weight: 440g

Single box size: 21.5*16*4.8cm

Low power of red light: mainly for eyebrow washing, tattoo washing (red light does not need to wear protective glasses)

High blue light power: mainly for eyebrow washing, tattoo washing (requires laser protective glasses to operate)
Package Contents: