This is a good repellant that drives away animals without causing any harm to them.

What animals can be chased away?

Fox. Deer . Raccoon. Mouse . Skunk. Squirrel. Snake. deer, dog, cat and any animals you don't like.


Working principle:

It adopts the principle of infrared detection, and sends out ultrasonic waves to drive away small animals while detecting animals.

A strong ultrasonic signal frightens the animal. When the animal enters the range of the ultrasonic wave, it perceives the unfamiliar sound wave and generates a repulsive force, so that the product drives the animal away.

It will not cause environmental pollution, because the ultrasonic wave is beyond the range that people can hear, and it will not cause any harm to the human body.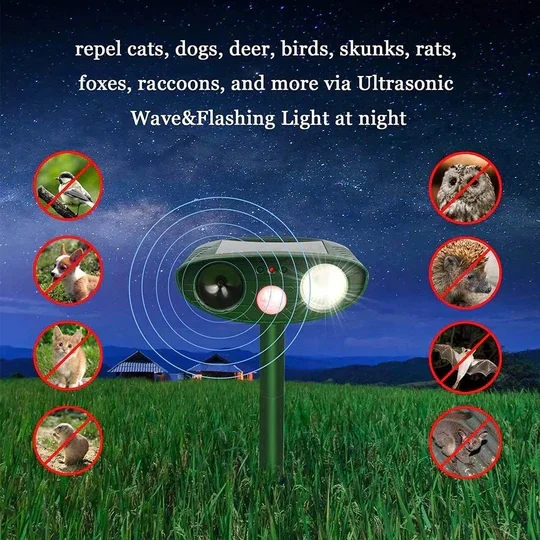 Product features

Static work when there is no driving target, low power consumption.
Coverage
6 meters to 8 meters.

Eco-Friendly And Easy To Use

Drives animals naturally without killing them. Made of UV resistant and waterproof material, suitable for all weather conditions. Solar technology, self-charging in sunlight, wireless charging. Never worry about changing batteries again! The repeller has flashing lights to scare the animals.

Not sure how it works? Simply insert the ultrasonic deer repellant into sunny soil and turn it on. Portable and compact design, can be installed in your home, garden, patio or other places. Once the deer enter the reserve, the sensors work, sending out ultrasonic waves and turning on the red light to drive the animals away.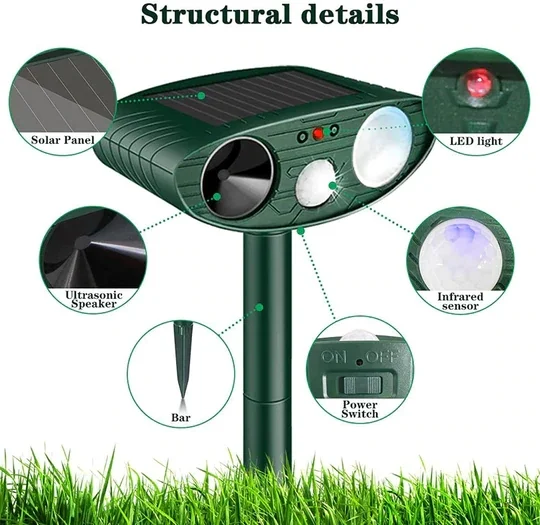 Environmentally friendly materials, solar charging

Equipped with solar panels as a power source, it is economical and environmentally friendly. The non-sealed design allows it to work in any weather, waterproof, windproof, sunscreen, and rust-free. The solar panel can effectively charge the product and keep the head on long standby all day long. Don't worry about needing a power outlet when the product is outdoors.

Chemical free! Protect your home from unwanted deer by not using dangerous and messy chemicals, pesticides, sprays or traps that could harm you and your family. No dead animals!