fall No More!!

The crampons have comprehensive foot anti-skid protection, easy to put on and take off, and firmly fit shoes and boots.
Wear it in winter to protect your safety and prevent you from falling and being injured when climbing, hiking, and walking.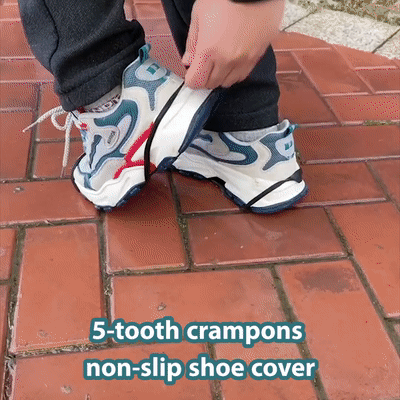 For ice fishing, hunting,walking, jogging, hiking, running, snow shoveling, etc.
Suitable for most footwear such as boots, sports shoes, hiking shoes, and running shoes.
5-claw Anti-slip Nails
Wear-resistant 5-tooth steel nails can provide excellent traction in various terrains or other harsh conditions. The strategic placement of the nails ensures an even distribution of weight and lasting comfort and durability.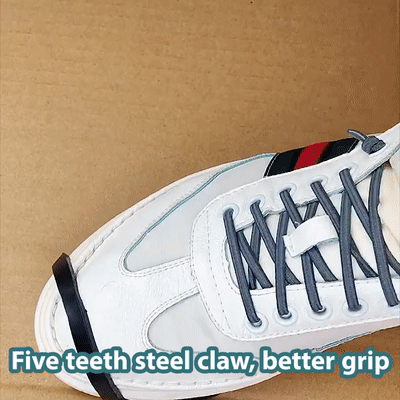 Wear-resistant PET Material
The high-elasticity, high-toughness PET material will not tear or break, thickened to 3.42mm, and has a longer service life. Suitable for adult shoes of all sizes.
Easy To Wear
You only need to buckle the front end of the crampons on the toe of the shoe and the back end on the heel, and then adjust it appropriately. Save your precious time and energy.
Various Uses And Unisex
Suitable for men and women of any age, including teenagers, adults, and the elderly. Used for angled terrain, icy roads, icy driveways, muddy and wet grass, dangerous trails, etc.
Using Methods
Specification
Material: TPE
Colour: Black
Size: 25*9.4CM/9.8*3.7Inch
Occasion: Snow, Mountain Climbing
FAQs
We believe 100% in our products. This is why we offer a 30-Day Wear Test Guarantee where you can test the shoes and decide for yourself.
The feet are the foundation of the entire human body. They support your body from the ground up.
The plantar fascia muscle is a long band of muscle tissue and ligaments that stretches all the way from your heel bone to the front of your foot. This supports the arch and bone structure of the foot. When inflamed, this causes a variety of issues in the foot such as Plantar Fasciitis, and Heel Pain.
Orthopedic shoes help align a patient's feet and off-load areas of increased stress (like a collapsed arch, an arthritic joint, or a diabetic ulcer or callus).
People of all ages wear orthopedic shoes. They are also popular among people without foot problems because they are specifically designed to support the foot, ankle, and leg's structure and mechanics and strengthen important muscles.
Don't worry, this happens. Just send your order back and we will ship the correct size to you at no extra cost.